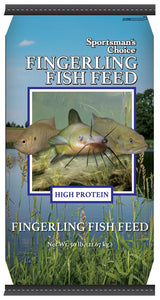 Sportsman's Choice® Fingerling Fish Feed
---
---
Sportsman's Choice® Fingerling Fish Feed is a 36% protein fish feed designed to be fed to catfish fingerlings, bass, bluegill, and other pond fish fingerling.
Feeding Directions
Sportsman's Choice® Fingerling Fish Feed can be hand-fed or fed from automated feeders.

Feeding should occur once per day and should be in a consistent location.

The feeding rate should be such that volume is consumed in 5-7 minutes of activity.  Adjust feed volume to fit this timeframe.
CAUTION: Do not overfeed. Overfeeding will result in oxygen depletion of the water, causing system buildup.
Note: This product has limited availability. Check with your local Sportsman's Choice retailer to find out if it is available for special orders if it is not stocked.
Guaranteed Analysis
| Nutrient | Min. | Max. |
| --- | --- | --- |
| Crude Protein | 36.0% | - |
| Crude Fat | 4.5% | - |
| Crude Fiber | - | 6.5% |
| Phosphorus | 0.8% | - |
| Vitamin D3 | 375 IU/lb | - |
| Vitamin E | 40 IU/lb | - |
| Vitamin B6 | 4.1 mg/lb | - |
| Ascorbic Acid (Vitamin C) | 45 mg/lb | - |
| Folic Acid | 1.0 mg/lb | - |